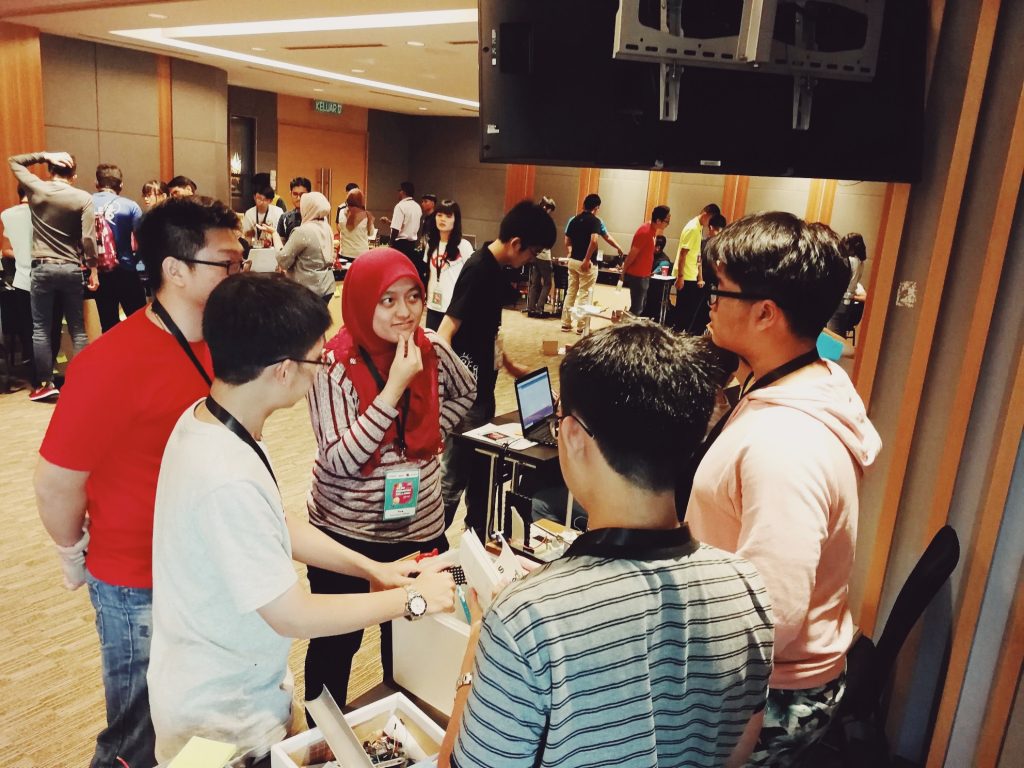 FREQUENTLY ASKED QUESTIONS
PROGRAM PHILOSOPHY
What is the objective of this competition?
To develop students' life skills by inspiring them to create with technology.
When students consume, their inborn creativity is not nurtured. By making students creators, rather than just consumers of technology, we nurture their inborn passion to learn. This natural way of learning allows students to develop deep understanding of concepts and nurtures their life skills.
Artificial Intelligence, Internet of Things, 3D printing, and other upcoming technologies will play a role in every aspects of our children's lives. Technology will therefore be the core knowledge, regardless of their choice of career.
Why are more marks given to Problem Solving than Technical and Learning in the judging criteria?
While tech will become an important tool in this competition, we believe in nurturing the students' life skills. With machines taking over many functions, students need to be as unlike machines as possible to have a job in the future. Life skills such as creativity, communication, collaboration, and critical thinking become indispensable.
PROGRAM OVERVIEW
What is Young Innovators Challenge?
The Young Innovators Challenge is a youth innovation program designed to help youths in Malaysia to develop technical and life skills in the areas of embedded system, problem-solving, innovation, and entrepreneurship through workshops, competitions, and an accelerator camp.
How is Young Innovators Challenge different from Young Innovate?
Young Innovators Challenge is a Sime Darby initiative which started in 2016. Young Innovate is a program by DreamCatcher which has been established since 2013.
Realizing the similar approach to engage youths of Malaysia in terms of building innovation capabilities, Sime Darby and DreamCatcher, and later on Chumbaka, collaborated for the Young Innovators Challenge in 2017.
Who can participate in the Young Innovators Challenge?
The Young Innovators Challenge is open to all students below 17 years old from national, private, and international secondary schools across Malaysia. Refer to Competition Criteria for more details.
PROGRAM PARTICIPATION
Competition happens entirely online. A physical state level will only happen at selected states. This is a strategic change to overcome certain obstacles that we have face over the many years of organizing this competition.
By running this competition online it allows:
Experts such as undergraduates, alumni of this competition, industry and technical experts to support students across Malaysia (not bounded by location).
2,000+ students can experience the journey & content of National Camp that were only exclusive to the selected 15 teams for the past years.
For more information, please refer to Competition Timeline.
How do I participate?
Form a team of 2 or 3 members. Register here: http://bit.ly/2021yic
When does the registration close?
Registration will close by 15 JULY 2021. You will need to submit a 3 minute video explaining your project.
Is there any limit to the number of participants from each school?
There are no limits to number of participating teams per school. However, each team must not exceed three members.
What if my school does not have any team to join the competition? Can I register as an individual?
No, only team participation is allowed.
Can I form a team with my friends from other schools?
Yes. Team members can come from different schools, provided they are from the same state.
Can you tell me more about the digital badges being awarded?
Digital badges provide Chumbaka an effective way to recognise learning because the focus is on evidence-backed competency achievement. Digital badges are widely adopted across many sectors (over 3,000 organisations across the world). They provide a way to validate individuals based on skills and achievements. Because digital badges are based on an open specification, you can receive and share other digital badges across different providers.
More details about digital badges can be found from this link.
I think I have registered. But I am not sure.
If you have registered your team, you would have received an email from us.
Otherwise, you may also check your registration here on Google Sheet.
PROJECT DETAILS
Will we get any funding for our project?
No funding will be provided for projects.
What is the medium of instruction used throughout the program?
English is used for presentation, course delivery, and learning material.
What is open-sourced embedded system?
Open source denotes a software or a hardware for which the original source code and design are made freely available and may be redistributed and modified. Embedded system is a computer dedicated to performing a dedicated task. An example of an open-source embedded system is Arduino. You can find out more about Arduino from www.arduino.cc.
Where can we get the open-source embedded components?
You can purchase from Chumbaka by contacting enquiry@chumbaka.asia for the Arduino sets that come with Learning Manuals and a comprehensive set of components. See brochure here.
You can also buy components, and NOT the Learning Manual, from local electronic shops or online through Cytron at my.cytron.io. Remember to apply the discount code YMAKE21 for a 10% discount.
Where can we get more components?
You can purchase components from our partner's online store at www.cytron.io.
Remember to apply the discount code YMAKER21 for a 10% discount.
Can we use proprietary systems such as Lego Mindstorms or VEX for my project?
No, this program promotes open-source hardware and software such as Arduino and Raspberry Pi.
What are examples of previous years' projects?
Students built projects as diverse as automated egg hatchery, smart cushion for bed sores, crocodile detector, smart stick for the blind, and many other innovative solutions to address real-life challenges. More examples are available from Chumbaka's Facebook page and Young Innovators Challenge Facebook page.
Who owns the intellectual property rights to our solutions?
All ideas and solutions delivered during the Young Innovators Challenge belong to the organiser and its partners. If the solution is chosen for commercialization, due consideration will be given to reward and recognise the originator of the idea.
COMPETITION JUDGING
How do we decide on a project?
Find a person within your community* to identify a real-problem that he/she faces and design a solution that solves the problem that has a social impact**
Identify a real problem he/ she faces to solve. Hence you must first understand what the problem is before arriving at a solution. This is where you apply your design thinking skill.
*A community is a group of people who share something in common. You can define a community by the shared attributes of the people in it and/or by the strength of the connections among them. Eg: Your school, family, village, neighbourhood, sports clubs, religious group, gamer etc
**A significant, positive change that addresses a pressing social challenge within your community
What sort of prototypes do we have to come up with?
Your prototype must be functional and not merely a mock-up. It must be a solution to address a real-life problem of the person you chose. You may use a simpler component to demonstrate a concept, for example using a tilt switch to simulate an accelerator, but it must be functional.
What are the judging criteria for the competition?
Technical (30%)
How well the prototype works?
How innovative is the project?
How well they understand the coding?
Problem Solving (40%)
How well they understand the problem?
How accurate and consistent is the solution at solving the problem?
How impactful is the solution?
Learning (30%)
How well they pitch?
What have they learned?
How strong is their teamwork?
Whom do we present our projects to during the state-level maker fair and competition?
The state-level competition will be held in an exhibition format and open to the public. The evaluation process will be performed during booth visits by the judging committee. The judging committee includes academicians, industry experts, and relevant government agencies.
What if we have further enquiries?
For questions on the state-level competition, kindly contact Chumbaka at enquiry@chumbaka.asia. For questions on the National Accelerator Camp, kindly contact the Sime Darby team at younginnovators@simedarby.com